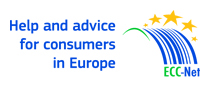 KÉRDŐÍV AZ ÁLLAMPOLGÁRSÁG VAGY LAKÓHELY MIATTI HÁTRÁNYOS MEGKÜLÖNBEZTETÉSRŐL
Are You having a complaint against a trader located in the European Union, Iceland or Norway?
Have you already made an attempt to resolve your complaint directly with the trader, but it was not successful?
Ask for free help and assistance of the European Consumer Centres' Network!