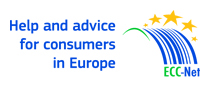 KÉRDŐÍV AZ ÁLLAMPOLGÁRSÁG VAGY LAKÓHELY MIATTI HÁTRÁNYOS MEGKÜLÖNBEZTETÉSRŐL
Home
How can we help you?
A panaszom határon átnyúló jellegű, azaz külföldi vállalkozással kapcsolatos.
A panasszal érintett vállalkozás az Európai Unió valamely tagállamában, illetve Norvégiában vagy Izlandon rendelkezik székhellyel, telephellyel vagy kereskedelmi képviselettel.
A segítségnyújtásunk további feltétele
Are You having a complaint against a trader located in the European Union, Iceland or Norway?
Have you already made an attempt to resolve your complaint directly with the trader, but it was not successful?
Ask for free help and assistance of the European Consumer Centres' Network!