Visit of foreign consumer experts at the European Consumer Centre
On 5-6th October 2016 13 staff members of the Spanish, Dutch, Czech, Slovakian, Slovenian and Croatian member organisations of the European Consumer Centres Network (ECC-Net) paid a visit at the European Consumer Centre of Hungary hosted by the Hungarian Authority for Consumer Protection (HACP).
The participants exchanged their views on the current questions of the Network, the future challenges, the handling of the cross-border complaints and also on best practices. The information of consumers and raising consumer awareness constitute priority issues of ECC's work, thus vivid discussion was among the participants about the information and communication activities carried out by the centres as well. In addition, the experts shared their experiences and results of cooperation concerning the national consumer protection stakeholders and other EU networks (Europe Direct, Enterprise Europe Network, Solvit etc.).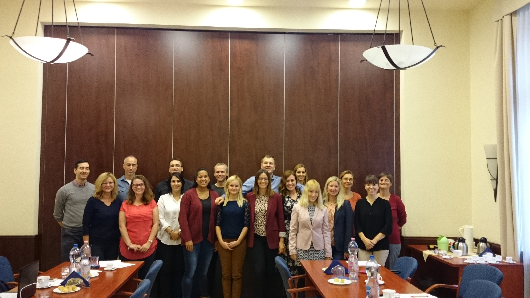 Moreover the participating ECCs introduced the operation of their host organisations in the field of consumer protection, and also their national consumer protection system and its special provisions. The foreign professionals visited the Mechanical and Electrical Laboratory of HACP, where they followed with careful attention the practical presentation of the laboratory experts and also the introduction of the activities and tasks of the laboratory.
The guests were welcome in person by dr. István Szente, the director general of the HACP, who emphasized that the consumer protection authority supports and monitors the ECC's work. He said that he highly appreciated the results the ECC achieved in the past period in connection with the effective settlement of the cross-border consumer complaints, the media activity, the support of the professional work of the HACP, furthermore in the area of raising awareness of consumers and businesses.
All in all the event was a very fruitful exchange of experiences among the consumer protection experts, which contributed to the effective cross-border handling of complaints and to the strengthening of the professional relationship on a daily basis between the Hungarian and partner ECCs .